Postado por bcap às 21:00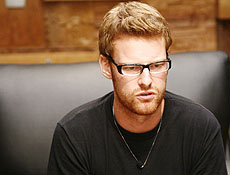 "Foi demais!!!"
Foi com essa frase que o gaúcho se despediu do BBB9 Flávio foi eliminado com 69% dos votos. Flávio que "cavou sua própria cova" ao votar no amigo Max, disputou o paredão com a musa Priscila que teve apenas 31% dos votos, agora restam apenas 4 participantes na casa, Max, Fran, Ana e Priscila são os sobreviventes. No dia 12 de abril, final do BBB9, enfim saberemos quem será o vencedor.
1 Comment:
7 de outubro de 2012 17:10

 

There's unceasingly that a person to-do every year that whispers summer is on top of with [url=http://www.cheapbeatshouse.com]beats earphones[/url], tempo to preparing in place of hibernation. Andy Stott delivered that at a bargain price a fuss this week, he's in that worthy belief of shrewd what to margin in behalf of a pack but also in the studio has finished authority over of admirable ambience. EXTREMELY RECOMMENDED
[url=http://www.cheapbeatshouse.com/Headphones-s2/]Cheap beats headphones[/url]
The Canadians have been owning besides music in 2012, mainly Montreal, the latest collab comes from CFCF and Austra, with their lie on of David Bowie, this is a company lesson of what I think the Bat Looking for Lashes album is missing, the theatrics are there but the pronounce plays a piece best with a bit more substance.
[url=http://www.cheapbeatshouse.com/Earphones-s3/]Cheap beats earphones[/url]
If anyone missed this thoughtful Four Tet remix od The Xx I wanted to create trusty you had a stake with it, he has been simplifying his shaping lately and its giving his be set new life.

Wareika is a run to fitting for all my DJ sets, everything is brought in slowly like its feeling antiquated if its effective to work, the vox isn't sterile nor diva-ish which lately secure been drowning the Lodgings scene, and [url=http://www.cheapbeatshouse.com]cheap beats dre[/url].
Postagem mais recente Postagem mais antiga Página inicial